Karlo
$350.00
In stock
. Ships in 2-3 business days.
The Karlo spout
Karlo is a medium sized bronze fountain spout that works well in most installations. The square shape harmonizes with common landscape elements. It's a nice in-between size that works well on a smaller swimming pool water feature or a wall fountain. The spout produces a flatish ribbon of water that holds together well.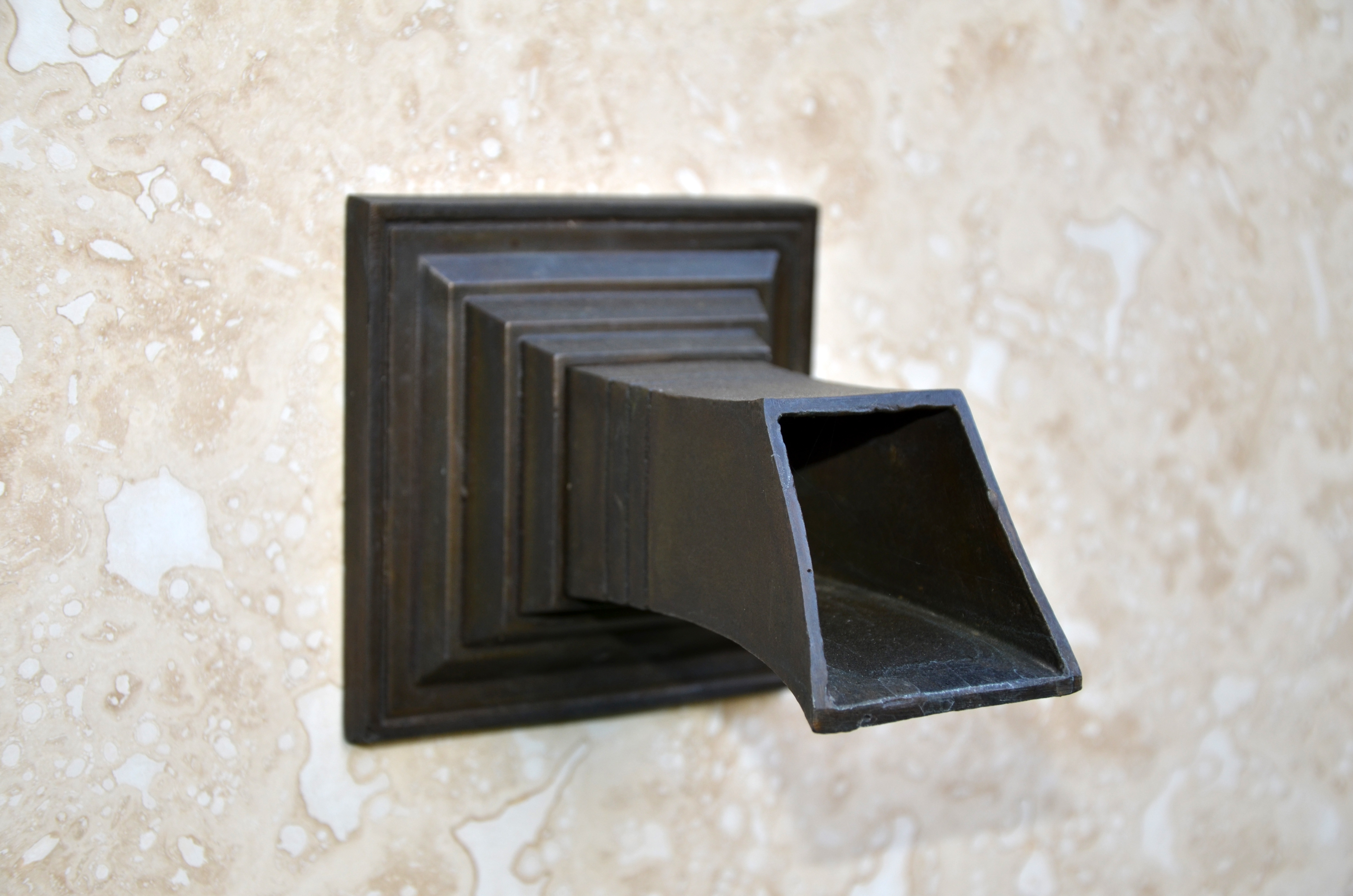 Proud to be square
Sometimes being Square can be good. Cylindrical spouts are over rated. Sure, there are more of them available. But, when you get right down to it, most of the time they are just a round peg trying to fit into a square hole. Being square has its advantages. You can play with your square neighbors and fit right in. Most of the elements in urban landscapes are straight and square. Tiles, brick, concrete pavers, precast concrete, walls, columns - your surrounding are formed by squares.
Square isn't for everybody…

Squares have sharp and unfriendly edges. A row of these would look fantastic on a swimming pool water feature. Just don't put it tool close to a swim lane or high activity are. If you were to bump into the corner of the spout ( say after spiking a volleyball during the fourth of July bash in you pool) it would smart.
Appealing flows
The spout flows beautifully producing a nice flattish ribbon of water that tends to hold together well.
At lower flows the ribbon thins out and becomes a row of dropplets. This is a good thing. The stream begins to sound like rain drops. The unceremonius din of a stream of water perpetually flowing into a pool tends to be too overpowering in a courtyard or small space. Just a hint of rain might be the right touch.
At more moderate flow rates the stream hangs together fairy well. You get a stream that appears substantial yet doesn't splash too much. If the amount of splash must be kept to a minimum keep it in this range. As the rate of water flow increases, and the flow into the spout becomes turbulent the stream begins to wander and move around.
Try to plumb the spout with the recommended pipe sizes. If you're using 1/2 inch pipe you just won't be able to get appealing stream at higher flow rates. Please look at Why using the right pipe size might be important
The spout isn't hard to install. I've designed my spouts to make the harderst type of connection as painless as possible. If you've got a PVC pipe sticking out of a wall and have no way of getting behind the wall, then this spout simplifies your life. All you have to do is cut the pipe to the right length and simply glue the spout in place. Check out the installation instructions.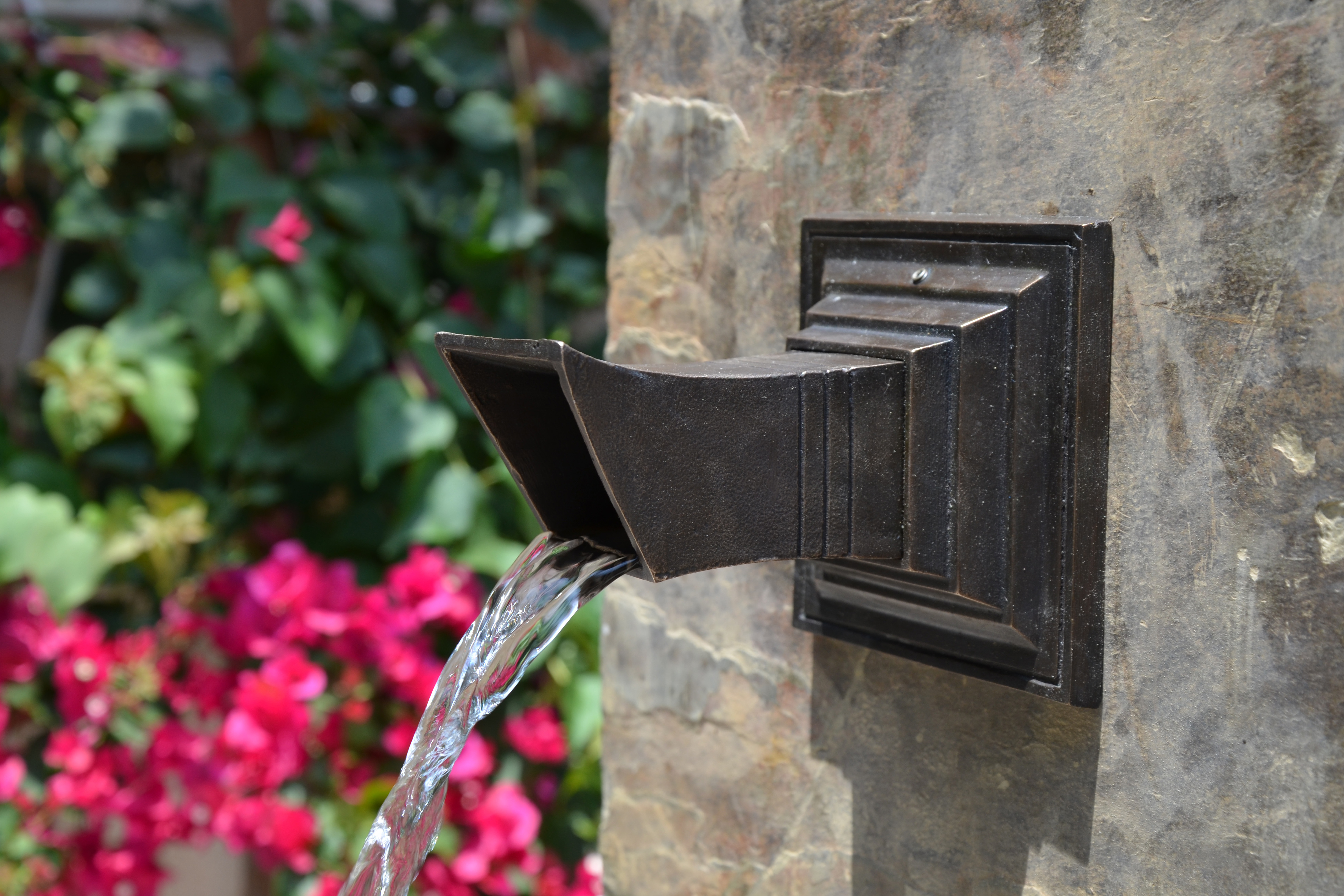 Upside down
The spout works well upside down. Even in this orientation it can handle a wide range of water flows. In the adjoining photograph you can see the set screw for the bonding lug on the top of the spout. I can weld the parts together so that the set screw is at the bottom. Call me to arrange this.
Technical specifications
size
4¼in x 4¼inbackplate
4¾in projection
also see the cut sheet
color
traditional chocolate brown with epoxy finish
other finishes available
see see color chart
connection
1 in female NPT
¾ in PVC socket
I realize that specifying two different connection types is confusing. There are a number of ways to install the spout. Please read about how to install a spout
water flows
low-end: ¾ to 1 GPM
middle: 1 - 3 GPM
high: 3 - 5 GPM
configurations
normal
upside down
vertical - for a water jet
What's in the box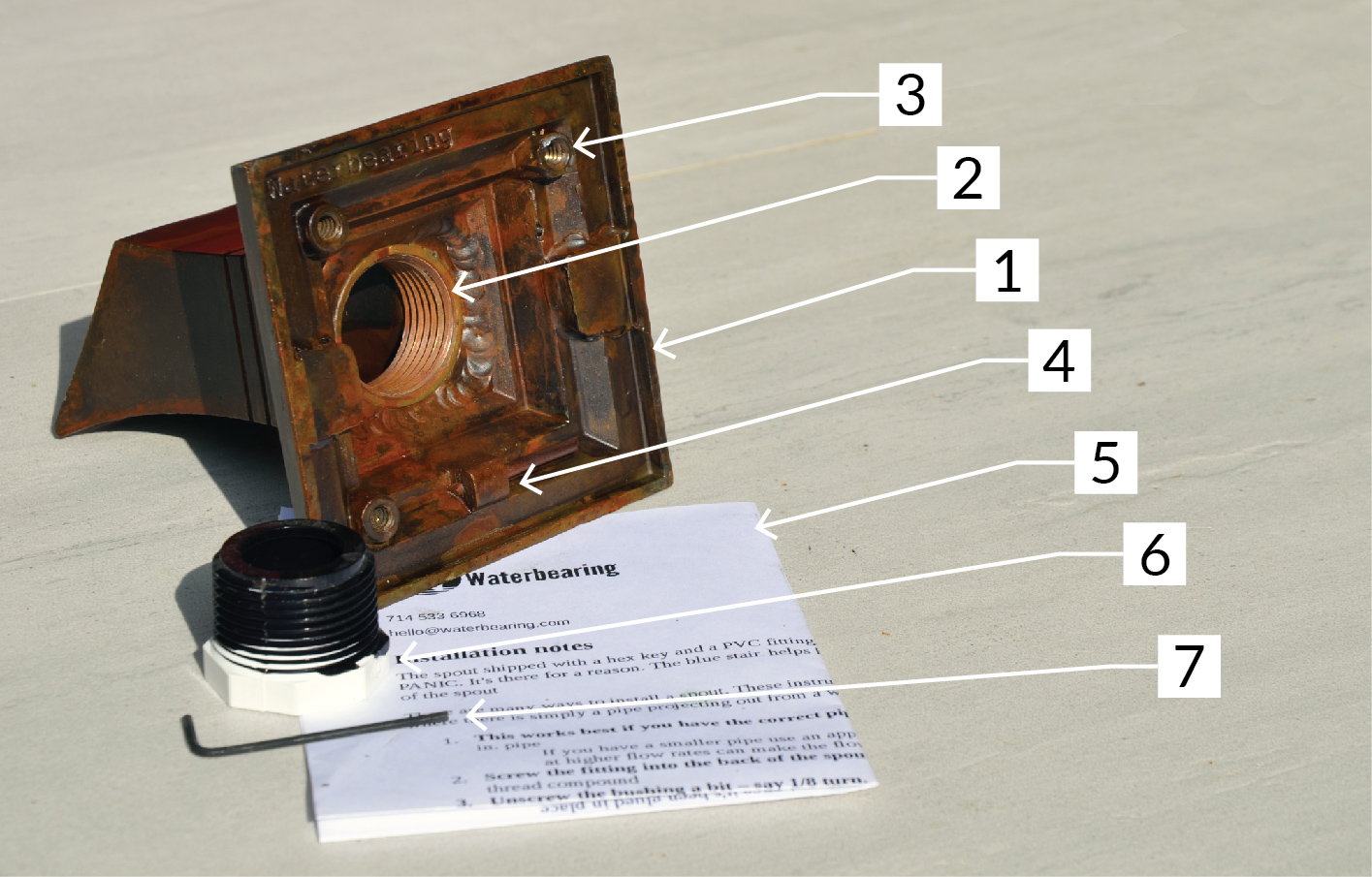 Requirements
If you have access to the back of the spout you can use either a 1 in or a ¾ in supply line. If you have no access to the back of the wall you'll need to use a ¾ in supply line.
If you need to bond the spout, the wire must be #8 or smaller. I believe that current code requires that #8 wire be used, but check your local requirements.